Roses and Spirits: Thrilling Cultural Experiences in Moroccan Festivals
From spiritual Sufi dances and trance Gnaoua music in Essaouira to flower picking activities, Moroccan festivals offer a variety of experiences that allow visitors to dive into the kingdom's rich cultural heritage.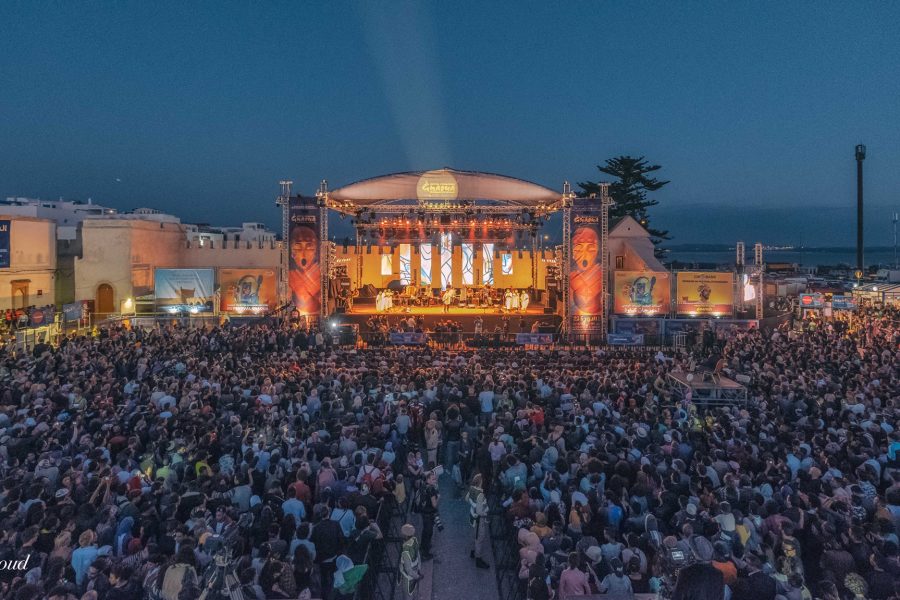 @MAP, 2023
Morocco is a country of splendid artistic heritage. The gate to Africa is extremely rich in music, dance, painting, storytelling, and film. Different art forms have been interacting and evolving across the country creating a variety which can only leave foreigners in awe. In this article, we will explore a few art forms, and we will tell you about just the right places and times to experience them in their natural settings.
It would be odd to speak about art in Morocco without mentioning Gnaoua. The formidable spiritual music which shakes listeners and transports them to whole new dimensions allowing them to explore parts of themselves which they did not know existed. It is a combo between Sub-Saharan rhythms and Arabic religious Sufi lyrics. The music genre has been defined, and is still, as a therapeutic experience. The choreography on Gnaoua music helps the body express itself while the mind enjoys a state of trance that can hardly be translated to words.
It is generally believed that this genre of music first made it to Moroccan culture through slaves transported from sub Saharan countries in the 16th century. Some sources claim they have arrived as early as the 11th century. The sound of the Krakeb, a percussion instrument made of metal, has its origins from the chains that slaves used to make rhythms as they sang songs of resistance. This historical music genre blended so well in Moroccan society and has became one of the most important genres in the country. Gnaoua artists often invoke names of spirits and resistance figures in their songs to empower their listeners. Even Led Zeppelin's Robert Plant was so inspired by the music to the extent that he wrote songs alongside Moroccan artists to celebrate this genre of music. He described his trip to have been one of the most inspiring journeys that brought the birth of the song "Kashmir."
Of course this ritualistic music has its own festival that lasts 4 days every summer in the beautiful city of Essaouira which overlooks the waves of the great Atlantic. It was founded in 1998 by Neila Tazi. Born in Washington DC, Neila is an entrepreneur and has been a senator in the Moroccan house of Counselors since 2015. She would have never thought that the festival which started as an idea in an agency based in Casablanca would grow to attract about 500.000 people and host talents from all around Morocco and all over the world. It has hosted several international artists such as: Gnawa Diffusion, Trio Joubran, Marcus Miller, Snarky Puppy, Kabaka Pyramid, Salif Keita, Cheb Khaled, and the list goes on. This festival is guaranteed to give the audience the ultimate Gnaoua experience with its trance, spiritual, and inspirational elements. With our expert knowledge of Essouira, Inclusive Morocco can book you a stay that will undoubtably become one of the closest experiences to your heart and soul.
Speaking of music and spirituality, the Fez Sacred World Music Festival is all about this duo. The festival hosts musicians from all religions and beliefs. It has several venues scattered in the city with a range of African, Western, Middle-Eastern, Jewish, Afro-American, Moroccan music, and even Punk Rock. Some of the most influential artists who played in the festival are: Patti Smith, Kadim Al-Sahir, Youssou N'Dour, Sami Yusuf, Salif Keita, Ravi Shankar, Miriam Makeba, Björk and Joan Baez. The festival also offers a variety of workshops and seminars about important international topics such as: social justice, climate change, and civil rights. Each year has its own theme. Last year's Festival was built upon the connection between architecture and sacredness. All the venues were decorated in fascinating Moorish design. Its founder, Faouzi Sakkali, says that he was inspired by Andalusian diversity, tolerance, and high regard for art and music to establish this project. He believes that Cultures of the world can communicate through music because it is a universal language, and this is precisely what happens in Fez' unique festival.
Morocco isn't just about spirituality, resistance, and trance. In the villages, there are countless festivals celebrated by indigenous locals. The Amazigh people of the Atlas and the Rif mountains know how to celebrate their land and the beautiful things it offers them every year. The Rose Festival is celebrated in Kelaat M'gouna, also known as the valley of the roses; a small town where locals gather every year around the first weeks of May to celebrate the blooming of thousands of pink soft roses that will make you feel as though you have entered a children's book. The beautiful roses are harvested in order to be turned into rose oil and water. The valley of roses is the right place to learn about the art of rose water making.
the Rose Festival usually starts by laying down thousands of roses on the streets creating an Arabian nights' like atmosphere that fills the air with the beautiful fragrance of the roses. Then, more than 20.000 people attend several celebrations including and not limited to dancing, singing, and feasting. In the last day, several women decorate themselves in the roses hoping to win the beauty prize of being crowned as the rose queen. Although the festival is held in a small town, accommodation is available for visitors in addition to several restaurants where tourists can try the delicious southern Moroccan cuisine from its original sources. Besides attending the festivals, visitors can also wander around the valley to have an individual explorative experience and enjoy the beauty and smell of the bloomed roses. A tour of one of the local distilleries can also be arranged to learn about the art of rose making and get some of the exquisite skin care products. In addition to rose related activities, you can also embark on a journey to discover the Moroccan desert and its radiant starry skies in order to seal the full fairytale experience.
From spiritual Sufi dances and trance Gnaoua music in Essaouira to flower picking activities, Moroccan festivals offer a variety of experiences that allow visitors to dive into the kingdom's rich cultural heritage. Whether you have been trying to reconnect with yourself, to be lost in the valley of roses and discover the child within, or for something completely different, Morocco might have just the festival for you. All you need to do is reach out for us to find you the meaningful, moving, and life-changing experience you deserve. I will make sure you are posted about several other festivals.
By Hossame Boudaghia
Hossame Boudaghia is a contributing writer for Inclusive Morocco. Born and raised in Tetouan, Morocco. Hossame is a PhD candidate at the University of Abdelmalek Essaadi. He is the Editor-in-Chief of the English version of Afanine Magazine. He currently lives in Queens, New York City where he works as a part-time ESL teacher.